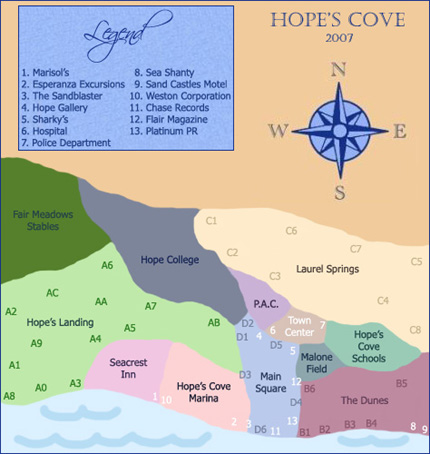 Take a stroll around Hope's Cove and explore the neighborhoods and areas that make up this unique, little coastal community. The focal point of town is Main Square, with all it's shops and businesses, not to mention the great apartment living it offers many younger Hope's Coveians. Also vital to the town are the calm, tranquil neighborhoods - Hope's Landing, The Dunes and Laurel Springs - where most families reside once they settle into a house.
If you're just passing through, you have your choice of either the Sand Castles Motel, which is not only cheap but easily accessible from the highway and right next to the Sea Shanty bar and grill; or the Seacrest Inn, if you have a bit of excess cash to splurge on a stay in one of the Florida Gulfcoast's more spectacular resorts.
Living or playing, Hope's Cove has it all - from the upscale Marisol's five-star restaurant to the fun, retro Sharky's diner and from world-class athletes showing their mettle at Malone Field during the dog days of summer to jetsetters yachting in to moor at the Marina. It all comes together in this tiny town, so take some time to discover Hope's Cove!
By moving your mouse over various points on the map, you'll discover quick statistics about the homes and businesses of Hope's Cove. To learn more, all you need do is click the menu bar on your right and a pop-up window will open with the profile you have selected.